I showed up in the Spokesman Review weaving on the quad at the Gonzaga Tartan Legacy Day.  It was a blast, and the cloth came out beautifully.
For curious weavers, I used a sett of 12 epi using sport weight Brown Sheep Naturespun yarn in Natural, Irish Shamrock, Nordic Blue, and Scarlet, sourced locally at Paradise Fibers.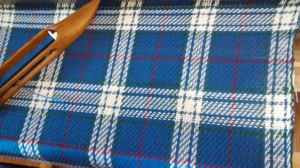 I will have it at the 13 May meeting of the Spokane Handweavers' Guild in Spokane Valley, if you'd like to see the finished product.  I fulled it further than I intended, which makes me a wee bit sad, but it would make a GORGEOUS blanket at that weight.
As we learned at the last guild meeting, blue DOES in fact felt at a different rate than the other colours, so I also had puckering of the white squares, which I worked out with a makeshift mangle (large rolling pin) and lots of elbow grease.