---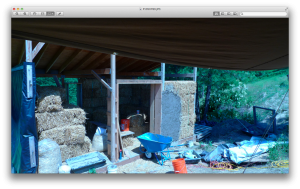 ---
---
Want to get away from the hustle and bustle of Black Friday?
Join us for Black Fiberday, a mellow day of creative work, learning to needlefelt.
Make Handmade, Local Gifts, Custom Created by: You!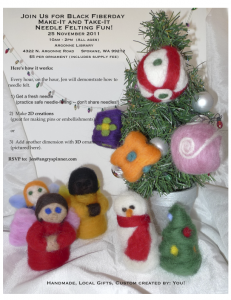 Click here for the printable .pdf poster
Where? Argonne Library
When? 25 November 2011
Time? 10am – 2pm
Who? Anyone, ages serious 5 years – playful adults
Here's how it works:
Every hour, on the hour, Jen will demonstrate how to needle felt.
1) Get a fresh needle
(practice safe needle-felting — don't share needles!)
2) Make 2D creations
(great for making pins or embellishments).
or
3) Add another dimension with 3D ornaments
(pictured here).
RSVP to: Jen@angryspinner.com
---
It's one week until ArtFest, and things are crazy at the house of the Angry Spinner.
The castle of the loom is piled with scraps:

There's a TENT in the middle of the living room, that's been turned into a sweat shop: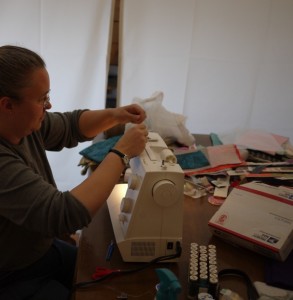 And I'm warping MOHAIR. Mohair, people: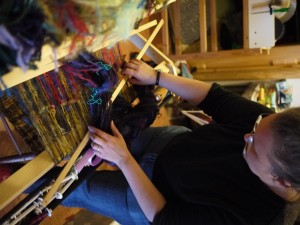 But the mohair is making BEAUTIFUL brushed shawls and throws: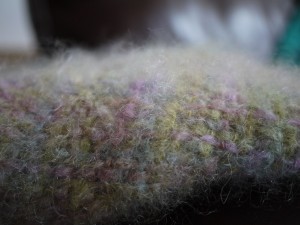 Come see me at ArtFest next weekend (June 3, 4, 5) in booth N36 in the NW corner of Coeur'd Alene Park in Browne's Addition, Spokane, WA.
---
Stuck in a project rut? Have fiber questions? Looking for new ideas? Want a sounding board?
Bring your current fiber project (felted, knit, spun, woven) to the Free Fiber Clinic and we'll put our heads together to get you from UFO* to finished piece of work.
Dates:
4/15 12-2pm
4/22 12-2pm
5/6 12-2pm
5/13 12-2pm
5/20 12-2pm
5/27 12-2pm
Sign up at Paradise Fibers under "Classes" to join.
*UnFinished Object
---

I got a sample of the Bamboo Merino Top from Paradise Fibers in Spokane this week. It's very clean, very soft, high-luster bamboo-merino top. Shown in picture spun to 17 WPI (sport weight), two-ply. It needed a little more twist than merino-alone does, but plied very nicely to a yarn that hangs well. The bamboo gives it that beautiful luster, and a nice drape and weight.
---

Approx. 1 oz. of Navajo Churro wool in a rich tweedy grey. If you look closely, you'll see black, white, and grey fibers in this wool. Woolinated in the Woolinator 3000, and drum carded by the Angry Spinner, this wool spins easily, and has good strength and wear.
01-CHURRO-06
$3
---