A few weeks ago, I attended a dye workshop with Liz Moncrief at the Whatcom Weavers' mini conference, Fibers and Beyond, in Lynden, WA. I haven't dyed cellulose fibers or worked with fiber-reactive dyes before. This was a two-way split warp that I inverted on the loom, to give the middle stripe. I first tried weaving it with the same yarn in a third colour: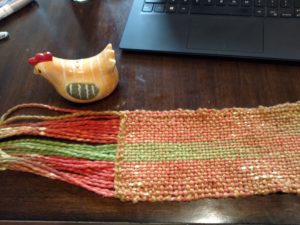 (Click to view larger).
But as you can see, it was too much gold, and it muddied up the colours. So I went searching through my stash and found a brighter gold that was thinner and let the warp shine through: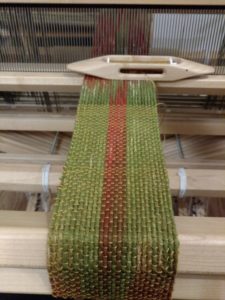 (Click to view larger).
It was just barely dry when I entered it into the Spokane Handweavers' Guild Annual Sale. I regret to inform you that I did not take a photo of the finished piece, which sold the first day of the sale before I returned from Las Vegas.
This is a shame, as I was especially happy with the trim — I added in thin gold strands, twisted the fringe, and finished it with a Common Whipping in the gold thread.